The Parisian Hotel You Need To Know About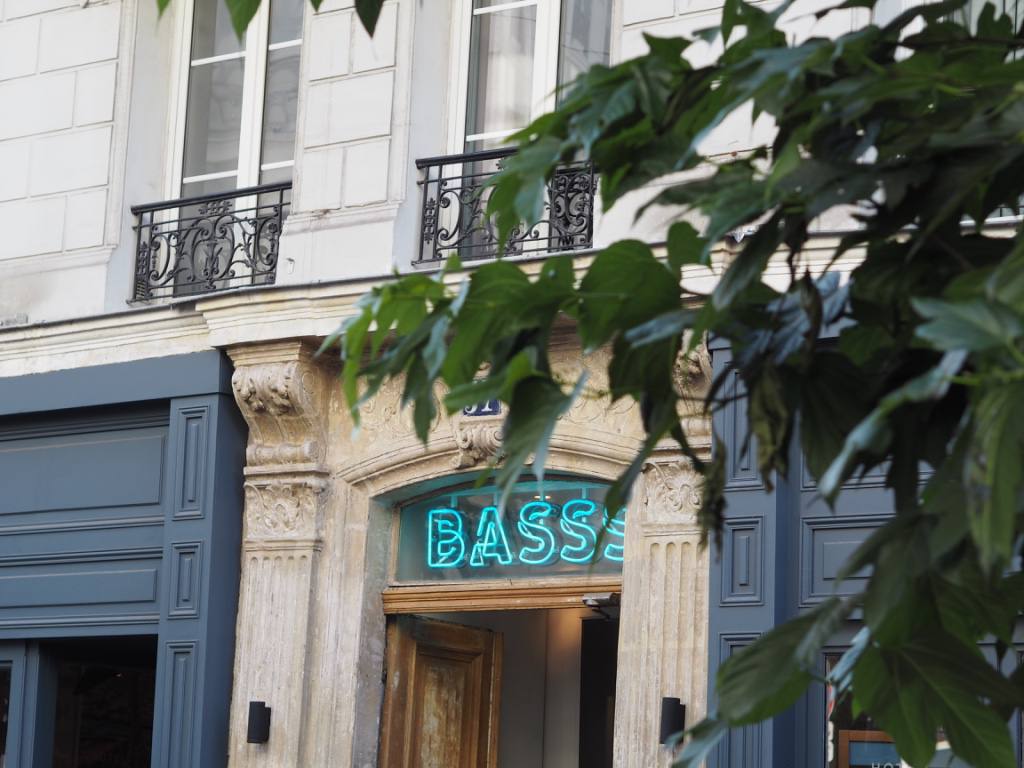 I can't believe it's only been a week since we arrived in Paris - it already feels like our trip was forever ago! Isn't it annoying when that happens? We only spent one night in the city before heading to Disneyland, but we had such a lovely time. We ate delicious steak, wandered along the Seine and shopped on the Champs-Élysées - it was pretty dreamy. But the thing that really made our trip was our stay at the fab Hotel Basss.
Hotel Basss is located in Montmartre which is my favourite area of Paris - I love how it's off the beaten track but still teeming with great restaurants and trendy bars and quirky boutiques. I've stayed there the past 3 times I've visited the city and I love how familiar it feels to me now - it really is a great base to explore all that Paris has to offer.
We arrived at Hotel Basss late afternoon on Saturday after wandering up from Gare du Nord (which FYI, makes for a very pretty stroll through some very gorgeous streets). Our check in process could not have been easier and the receptionist who greeted us was super friendly and helpful.
We instantly fell in love with the design and atmosphere of the hotel - the decor has a very Scandi feel to it and feels very cool without being too try hard. The vibe here is very much "boutique hotel" which is pretty ace considering how reasonably priced it is - it definitely felt like better value than anywhere else I've stayed in Paris.
Sam and I were so excited when we reached our room, which was located on the sixth floor. Not only was it totally gorgeous, but we were also lucky enough to have the most incredible view of the Eiffel Tower from our window! The sun was setting behind the tower as we started to unpack and I just couldn't stop staring out of the window and taking photos - it was so picturesque.
Our room was equipped with everything we could have needed, including a hairdryer, a TV, facilities to make hot drinks and some pretty trendy toiletries. The room was a little bit on the small side, but to be honest I wouldn't really expect anything else from a hotel in such a great location (especially given the price). The bathroom was a little bit of a tight squeeze for Sam who is pretty tall, but we both managed just fine for our one night stay without feeling claustrophobic.
The view was the real selling point for us, and it was so good that after enjoying a delicious dinner down the road, we decided to grab a bottle of champagne and head home to admire the Eiffel Tower light show from our bed. The bed was so comfy that it felt like total luxury to just sit there and relax, and it was just what we needed as we had been up late dancing at our friend's wedding the night before. We both slept like babies under the comfy duvet and super soft sheets and woke up feeling fully refreshed, ready for a full day of exploring.
But of course, we couldn't crack on with sightseeing and shopping without filling up on breakfast first. Hotel Basss offer a free continental breakfast to all customers - you can either make the most of the buffet or order something up to your room. We decided to head downstairs to check out everything that was on offer and we weren't disappointed!
The choice was really great for a continental breakfast and everything tasted delicious - the croissants particularly were some of the best I've ever had. They were so fresh and flaky and nothing like the soggy beige pastries that you can sometimes come across on a breakfast buffet. The service at breakfast was very attentive too, with the waitress making sure we had everything we needed and popping over to serve our hot drinks and point out what was on offer.
After devouring as much brekkie as our stomachs could accommodate, it was time to check out. Our stay with Hotel Basss was short but very sweet, and I know we will be back to stay again in the future. It was the perfect base for our trip to the city and we loved staying somewhere that felt cool and chic without being too pretentious.
I can't stress enough how good value this hotel is - I have paid a lot more than their going rate to stay in a Travelodge and the experience and service here is way, way better than anything you can expect from any sort of budget hotel chain. I would thoroughly recommend Hotel Basss if you are looking for a Parisian hotel - it really does tick all the boxes.
*Hotel Basss very kindly offered us a complimentary stay in exchange for an honest review. As always, my thoughts and opinions are all my own - I really was *very* excited about that incredible view!