Aloft Liverpool - The Perfect City Centre Hotel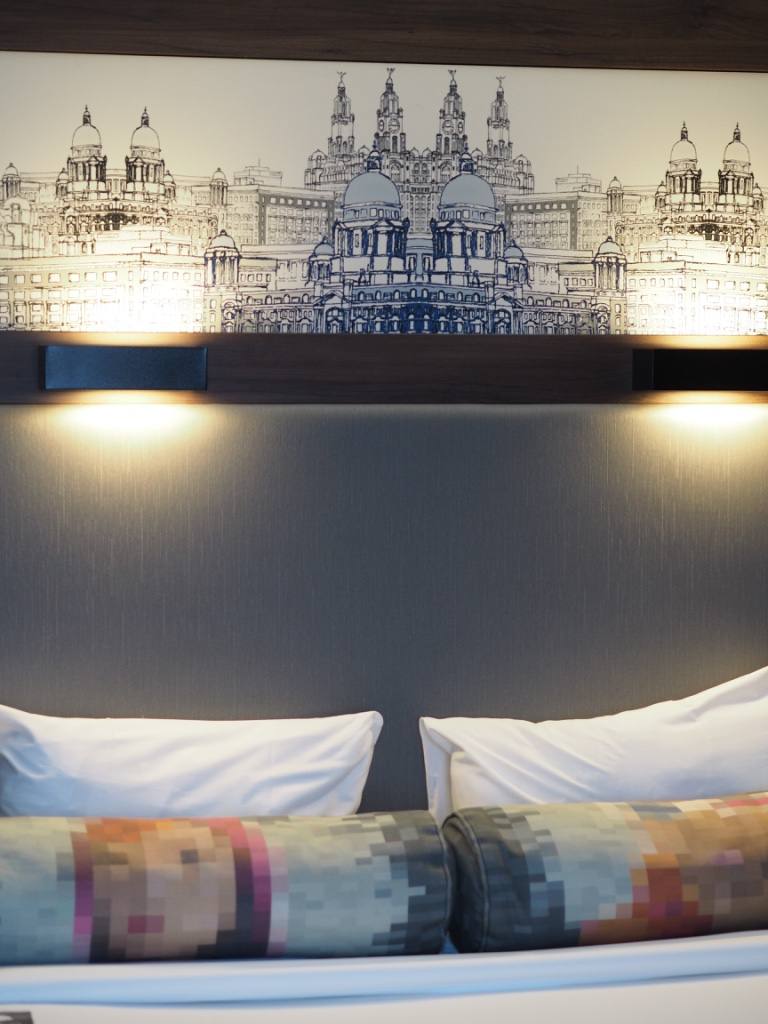 After our plans for Rome fell through, Sam and I decided to try and get away for a night somewhere closer to home. We have been meaning to spend some time in Liverpool for a little while now so we decided to take the opportunity to head there for a spot of exploring and some birthday celebrations. As we only had one night in the city we were looking for a hotel that was in a really central and convenient location - enter Aloft Liverpool.
This hotel could not be in a more perfect place - situated on Dale Street, it's incredibly close to Liverpool One and the famous Cavern Quarter, and you can walk to the Albert Dock or Bold Street in less than ten minutes. It's a great place to stay if you haven't quite decided what area you want to explore, as nothing is too far away.
The location alone would have been enough for me to recommend this hotel, but when we arrived and saw how beautiful it was, I was totally in love. It's set within the iconic Royal Insurance Building and the architecture is simply stunning. Think impressive, high ceilings and beautiful arched windows - it reminded me a little bit of Grand Central Station which is one of my favourite buildings in the world.
We arrived a little bit early for check in, so we decided to head to the NYL Restaurant & Bar for a drink while we waited for our room to be ready. As we were celebrating my birthday we decided to treat ourselves to a cocktail - the menu was really impressive and it was hard to choose, but I opted for an espresso martini and Sam got his usual, a negroni.
Both cocktails were made really well - Sam is a bartender so can be fussy where drinks are concerned, but he was really impressed. They were pretty reasonably priced too considering we were in a city centre location. We didn't get to try the food at NYL, but I've heard really great things about it, so we'll have to come back and give that a try another time.
By the time we had finished our drinks our room was ready and waiting for us. We stayed in one of the Aloft rooms on the 6th floor and we were totally blown away by it!
For starters - it was HUGE. I don't think I've ever stayed in a city centre hotel room that was so big, but it was so lovely to have so much space. It was decorated beautiful too - I really like the artwork of the city's skyline that was hung above the bed. There are lots of similar pieces of art dotted throughout the hotel, and I thought it was a really nice touch.
The bed was gigantic and oh so comfy - it was the perfect place to wake up on my birthday! We also had a fab floor to ceiling window with views over the city and there was a huge orange bean bag in front to relax on - I think the bean bag was Sam's favourite part of the room and he spent a lot of time sitting on it and reading his book while I got ready.
The bathroom was equally impressive, with a very spacious shower and a couple of really great mirrors for applying make up in front of. I have stayed in so many hotels where the lighting/mirror sitch has been less than ideal, so it felt like a real luxury to have so much space to have a pamper and get ready in.
In terms of amenities, there was nothing we were missing. We had a mini fridge to keep our prosecco chilled in, a flat screen TV and even a mini ice bucket that you could fill up at the bar downstairs. The team had also left us a little fruit platter in the room which we enjoyed snacking on before heading out.
We went for a lovely meal and a couple of drinks at some local bars, but in all honesty we were both so excited to get back to the hotel room and sprawl out in our giant bed. It was so comfy and I slept like a baby - I was so glad that we weren't in a hurry to leave the next day so that I could enjoy a lie in and open all of my birthday pressies in bed.
It's worth mentioning that the staff at the hotel were super lovely too - everyone we spoke to was so cheerful and nothing was too much trouble. I think service makes such a difference to your stay, and quite often city centre hotels can forget just how important it is, but that certainly wasn't the case at Aloft Liverpool.
With rates starting from £69 a night, I really don't think you will find a better value hotel in the heart of Liverpool city centre. I've already recommended it to two separate friends, and I will continue to do so - it's not often that you can expect such a great experience at a city centre hotel.
*We were offered a complimentary one night stay in exchange for this review, but as ever, all opinions are my own. I really am still daydreaming about that bed!!!