The Interesting Women Interview (#9) - Jo Cotterell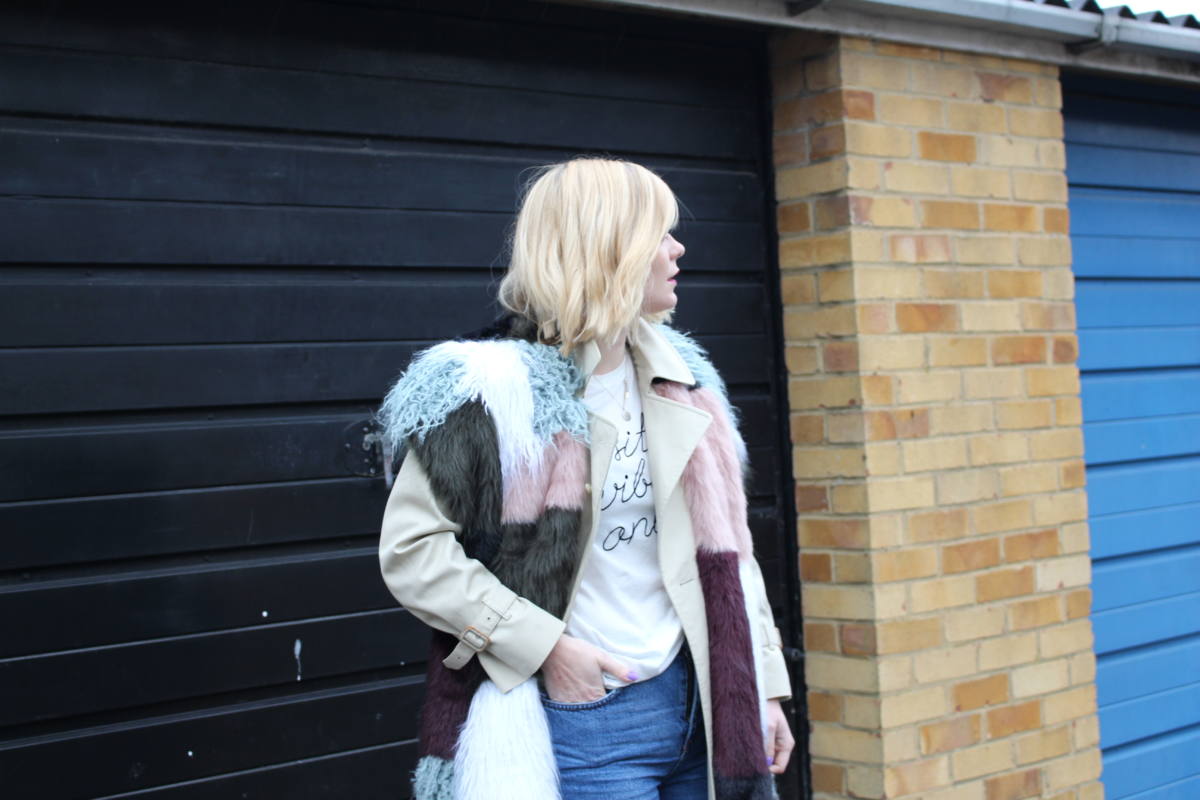 Happy Wednesday everyone! I've got another ace Interesting Women Interview for you today - I know you're all going to LOVE Jo Cotterell (if you don't already!). She's one of the bloggers who inspired me to speak openly about gut health and IBS on this blog and she also has THE most incredible wardrobe of midi skirts and sequins - I think she may be my spirit animal... In this interview we talk about managing a blog with a full time job, finding inspiration and, of course, poo. Enjoy!
1)   Hey Jo! Why don't we start by you telling us a little bit about yourself?
Sure! Hi. I'm Jo Cotterell, I'm 30 years old and live in a sleepy little town just outside London.
By day I'm a Social and CRM Producer at Scripps Networks, where I predominantly drool over luscious pics of dishes on Food Network. By night I blog about all things gut health and IBS, fugly shoes, beach wedding planning and my penchant for a pleated midi skirt.
I'm also the stupidly-proud owner of a big bundle of fluff in the form of Lilly the Dwarf Lop. And yes I did set up an Instagram page for her and yes, you should give her a cheeky follow.
2) One of the things I love most about your blog (apart from all of the fab fashion recommendations, of course!) is how open you are about gut health and IBS. What encouraged you to be so honest about your experiences?
I've had IBS for over 10 years and while I'm very open with family and friends about it, I hadn't ever mentioned it on the blog, despite it being a huge part of my life. I figured that to be really true to myself, and to my readers, that it was worth sharing. My IBS shapes a lot of what I do, from what clothes I wear (oversize everything to allow for bloating), to what I eat, where I go and how I get there. I was fed up of feeling like I was the only one who struggled with my gut health and wanted to encourage others who were in the same boat to start openly talking about it. I hate the fact there's such a taboo around talking about poo!
Plus I come from a family of over sharers so I feel it was only a matter of time!
3) Some of the symptoms of IBS can be pretty embarrassing. Do you ever feel shy about sharing some of the details of living with IBS on such a public platform?
To begin with yes! The blogging world can sometimes seem to only portray a superficial, glamorous side but I love finding grit and determination and reading honest, heart-breaking stories as it's the side that's not so often shown. Life isn't perfect and as a blogger myself, I wouldn't want people to think that mine is.
IBS is the least sexy topic ever but by talking openly about my symptoms, which range from bloating and cramps to the dreaded d word, extreme lethargy and anxiety, I knew I owed it to myself to start writing about it. And when I did, it felt like a massive weight off my shoulders. As I began to share more and more of what I like to call my shit storm, I started to receive comments from others who appreciated my honesty and could relate to my experiences and symptoms.
That feeling of genuinely helping people because I'd been brave enough to break the taboo is still, to this day, the best feeling ever. And is the reason I continue to share as much as I do.
Honestly, I feel like sometimes I need to wind it in. There is a possibility I could share too much!
4) I know you've been working with other bloggers and brands to build a bit of a gut health community - what do you have on the cards for this year?
So. Much. Stuff! I work closely with Symprove, a water-based probiotic, which I swear by daily. These guys are creating something magical that genuinely has helped my gut and I will be raving about it even more this year.
I also adore Samantha Jones, the creator of the Gut Health Empire, who is a massive champion of a very supportive community. Together we have grand plans of videos, events, meet ups and general IBS world domination. Together we're definitely on a mission to normalize talking about gut issues.
My dream would also be to pull together all my blog posts around IBS into to some form of book, as I love nothing more than helping others. My only struggle is fitting all of that around working a day job, trying to blog consistently and planning for my wedding later this year!
5) You also have a day job alongside running your blog. How do you balance the two? Do you have any tips to share?
Balance for me is definitely one I struggle with. For me, it's all about lists. I used to have individual lists for blog, work, life and wedding, which actually just made me feel more anxious about everything I needed to do. These days I condense things down into weekly priorities that I need to tackle.
With my blog I like to plan in advance and am fond of a good list. I use my morning commute to respond to blog emails and update my Instagram and my commute home to write blog posts on the go. It allows me to switch off from work and get stuck into creating content. I tend to take pictures as and when I can depending on what I need. I also like to rope in Al, my boyf, at the weekend if I need any shots of myself. I try to schedule posts when I'm free during the week but after a tough day at work sometimes the last thing I want to do is look at another laptop screen, so end up bulk scheduling at the weekend.
I'm lucky that Al takes on the weight of the cooking and cleaning at home to give me the time to concentrate on creating content. He's a babe.
6) Has your blog taught you any skills that have helped further your career?
My blog has taught me to own my voice and use that to my advantage. Seeing and receiving positive feedback is a constant confidence builder, which gives me a positive attitude and belief. I use being a lifestyle blogger to my advantage as my day job is all about creating and promoting lifestyle content. So for me the two definitely go hand-in-hand.
7) Who inspires you, both personally and professionally?
This could be a long one as there are so many people and for many different reasons. I have to start with you, Sophie, for speaking so honestly and emotionally about loss and grief and how you came out of it the other side.
My mum, is a huge inspiration as no matter how many times she's been knocked down she's always got back up, dusted herself down and kept going.
Laura Jane Williams, who I found through your interview with her on here, as she has a ballsy approach to life and shares everything, striping herself completely bare. She says the things that are in my head and makes me want to strive to be my best self despite being a worrier and battling anxiety.
Sam Jones, who I mentioned above, is also fabulous. She's a gut-health hero and a massive cheerleader for me. She's an entrepreneur and a go-getter. She gives me the pushes and celebratory bat pats I need to take the conversation around IBS even further!
Professionally, my colleague Sanj, who also blogs some badass Indo-vegetarian, East African recipes at K.O Rasoi, is my daily support system. Together I like to think of us as the work dream team. She's super creative, super driven and destined for great things. If I ever need a boost or a little guidance when I'm feeling stressed, she's the one I turn to.
8) Finally, what are you looking forward to in 2017? What would you like to achieve?
First off, I should probably say I'm most looking forward to my wedding, because if I don't and the boyf or my family read this, I'll be in the bloody doghouse!
Secondly, I'm excited to see where work takes me this year as we have some huge, exciting projects on the go.
And of course, as I continue to share more and more around my IBS, I'd like to build up my community and meet some of the people I talk to online most. And then one day, hold my very own book in my hands. So I had better get cracking!
Make sure you check out Jo's blog here - although, be warned, her fashion posts will make you spend all your money!