The Ultimate New York Food Guide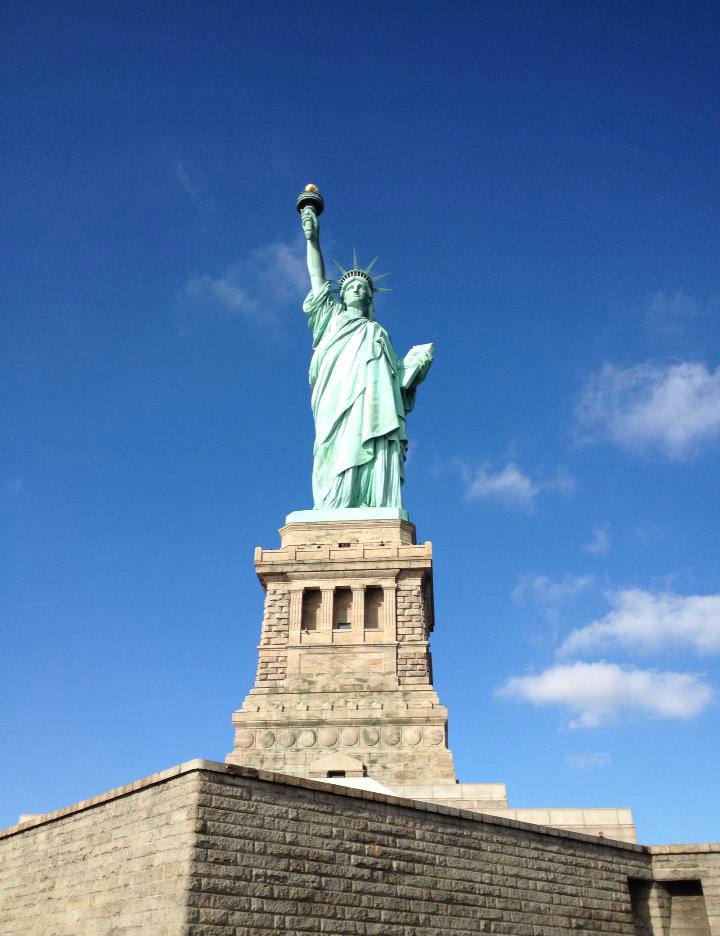 One of my favourite things to do when we go to New York is eat. Not only are Americans pretty damn good at food, but the Big Apple is so packed to the rafters full of amazing restaurants and eateries that there really is no excuse for a bad meal. Whenever my friends or family visit the city for the first time, I find myself compiling an epic list of all my favourites places to eat so that they can enjoy the goodness too. And as I sat putting a list together for my sister at the weekend, I thought that it was probably about time that I published it here too.
So here it is - the ultimate New York food guide. I apologise that there aren't tonnes of photos - these recommendations have been compiled from a number of different trips, and let's face it, no one wants to spend their holiday capturing picture perfect shots of their meals before eating them...
COFFEE
Okay, so let's start with the caffeine. Chances are that you'll be feeling a bit jet-lagged so a strong coffee will probably be in order. In New York you're never more than a couple of blocks away from a Starbucks, but if you're after something a bit more authentic then try out one of these spots.
There are nine branches of Blue Bottle Coffee in New York (as well as locations in Los Angeles and Tokyo) but my favourite is the one on Berry Street in Williamsburg. The space is huge and they have a roasting facility on site, so you know your coffee couldn't be any fresher! The locations at Rockefeller and the High Line are also convenient for grabbing an iced latte in Midtown.
This hip joint has two locations in the city, but you should definitely head to the one at Ace Hotel because the hotel is just super cool! The choice is really varied and you can also pick up some freshly roasted beans to take away with you.
Toby's Estate are a small batch coffee roaster based in Brooklyn. They too have expanded to open various cafes in the city and you can totally see why, as their stuff is pretty darn great. Their shops are all super Instagram-worthy too which definitely earns them bonus points.
BREAKFAST/BRUNCH
Now you've had your coffee fix, you're probably going to want some breakfast/brunch. Luckily for you, New York is awash with incredible brunch spots - these are some of my absolute faves...
It would be rude to go all the way to New York and not have a bagel, wouldn't it? Apparently the reason they taste so good there has something to do with their water being different which achieves the perfect consistency! Bagelsmith on Bedford Avenue is my favourite place to pick one up (seeded with cream cheese, natch) and paired with some fresh orange juice it's breakfast perfection!
This is something of a New York insitution and you need to get down there early to have any chance of getting a table. The food is incredible, the portion sizes are huge and the diner vibes will make you feel like you're in a movie. Be prepared to be full for the rest of the day after breakfast here!
Located in Prospect Heights, Tom's Restaurant is well worth catching the train from Manhattan for. It's been there since 1936 and I can totally see why - the food is absolutely amazing. Get there early (or be prepared to wait) and be sure to order an egg cream. I can also strongly recommend the Mexican omelette if you drank a little bit too much the night before - that thing could cure even the worst hangovers!
Harry's Bar is the perfect place to head to for Saturday brunch because when you order any entree, you can enjoy unlimited free champagne with it between 11am and 3pm! Which means that you can totally justify ordering the porterhouse steak and pretending that you're real fancy for a couple of hours. Winning.
LUNCH
Let's be honest, if you've eaten a big brunch you're probably not going to need lunch, but you're in New York and you need to take advantage of every meal time opportunity. So if you feel you can squeeze a bit more grub in, these are the places to try.
You're never too far from a Shake Shack in New York which is great news because their burgers are DELICIOUS and the crinkle cut fries (with extra cheese sauce, obvs) are what dreams are made of. This is more of a fast food joint but there are tables so that you can eat in if you want to - or do what we did and head to DUMBO and enjoy your burgers with a view over Manhattan. Best way to spend an afternoon ever.
Katz's Deli is well renowned as the place where Sally ordered that sandwich in When Harry Met Sally. Stand in line and order yourself a hot pastrami sandwich (tip the server when you order and he may even give you a little taster while you wait) - be prepared though, this is probably the biggest sandwich you will ever eat!
This place is an amazing food hall located opposite Madison Square Gardens that is filled with all of the most wondrous Italian food that you could hope to lay your hands on. There are loads of sit up bars where you can enjoy fresh seafood, pasta or pizza, as well as stalls selling things you can take away, like Nutella crepes! Need I say more?! Just go and thank me later.
DINNER
Now we're on to the heavyweight section - dinner! I could have made this section three times as big, but I've tried to keep it to just the highlights so that you can be guaranteed to find something that you love. Enjoy!
If you like steak then there's only one place to go - Peter Luger! Located in Williamsburg, Brooklyn, this place has going since 1887 which speaks volumes about how great it is. The decor is unfussy, the service is barely there, but the food is to die for - hands down the best steak I've ever eaten in my life. Be warned though - you'll need to book at least 3 to 4 weeks in advance to have any chance of getting a table here.
Another Williamsburg institution, Diner is the only place that we have revisited on every single trip to the city. Set within a snug metal diner car from the 1920s, this place is pretty damn hip, but the reason we keep coming back is for the food. They change the menu daily, but their grass fed burger is always on offer, and I'm not lying when I say that this is the best burger I have ever eaten in my whole entire life. All the other food we've eaten there has been great too.
This is another place we've been to quite a few times now and our experience has always been great. The concept is simple - you get handed a laminated menu and a marker pen, and you choose your "balls" (chicken, beef, veggie, etc), your "bed" (mash, spaghetti, polenta, etc) and then complete it all by choosing a sauce. The food is always fresh and tasty, and it's pretty reasonably priced too.
Located in New York's West Village, The Spotted Pig is one of April Bloomfield's many restaurants. Serving up seasonal British and Italian food using local ingredients, this place is a fancier take on a gastro pub, concentrating on great food and drinks. The reason you have to come here though is for that yummy blue cheese burger you see up there, complete with a gigantic stack of the tastiest shoestring fries you have ever eaten. You won't regret it.
The last place on the dinner list was recommended to me by the lovely Katie. It's set in Central Park and is the perfect place to celebrate a special occasion - the twinkly lights make it look like something out of a fairytale and the food is simply divine. Plus there's nothing like leaving the restaurant after a gorgeous meal and being surrounded by the iconic park on one side and skyscrapers on the other - a definite "pinch me" moment.
SWEET TREATS
If there's one thing that New York excels at, it's sweet treats. If you're in need a little mid-afternoon sugar pick me up, these places should be on your hit list.
Made famous by Carrie and Miranda in Sex and the City, Magnolia Bakery is another iconic New York spot. There are a couple of locations now, but the Bleecker Street one is the place to go if you're a fan of the show. Grab a cupcake or two (red velvet is my personal fave) and find somewhere sunny to sit and enjoy it.
You can't go all the way to the Big Apple and not indulge in a doughnut, and Dough is THE place to get your fix. With a huge variety of flavours (including blood orange, dulce de leche and mocha-almond crunch - yum!) you're bound to find one you'll love. Top tip: if you're not super hungry, maybe consider splitting one - they're massive!
This is more of a shop recommendation than strictly food, but seeing as it sells sweets it felt fitting to include it here. You can stock up on all the American candy you could ever need and they also have a cafe selling epic ice cream sundaes.
FOOD MARKETS
Last but by no means least is food markets. My favourite thing to do in any city is find a food market, pull up a seat and graze my way through lots of deliciousness all afternoon, and thankfully New York has plenty of places to do just that...
Perhaps the prettiest one on the list, Chelsea Market is the perfect place for a little stroll and shop. It's covered in fairy lights which makes it totally Instagram-worthy and there are plenty of places to grab a bite to eat. It's also very well located if you're planning on visiting the High Line.
Just down the road from Chelsea Market you'll find the super hip Gansevoort Market. I love that this place seems a little bit more laidback and I reckon the food choices are better too - plus it's more open plan which is great if there's a group of you.
Featuring New York heavyweights like Roberta's and Red Hook Lobster Pound, and set in front of the iconic Flat Iron building, Mad. Sq. Eats is an event not to be missed! Unfortunately it only runs for a couple of months a year, but the company behind it also run other events across the city throughout the year - check out their website for more details.
Saving the best till last again here - Smorgasburg is a foodie event that you have to add to your itinerary. Taking place every weekend over in Brooklyn, you'll be hard pushed to find another event that brings so many great street food traders together. Find yourself a table, order a margarita and munch your way through all of the yumminess on offer - bliss!
-
So there we have it - my ultimate New York food guide. Well done if you made it to the end - I can't believe I managed to witter on for nearly 2000 words about food (okay, I'm not kidding anyone, I totally can believe it). If you found this useful then make sure to check out my guide to New York bars too - and give me a shout on Twitter or Instagram if you visit any of the places on the list!
Pin for later: