Healthy Habits I'm Trying To Adopt This Autumn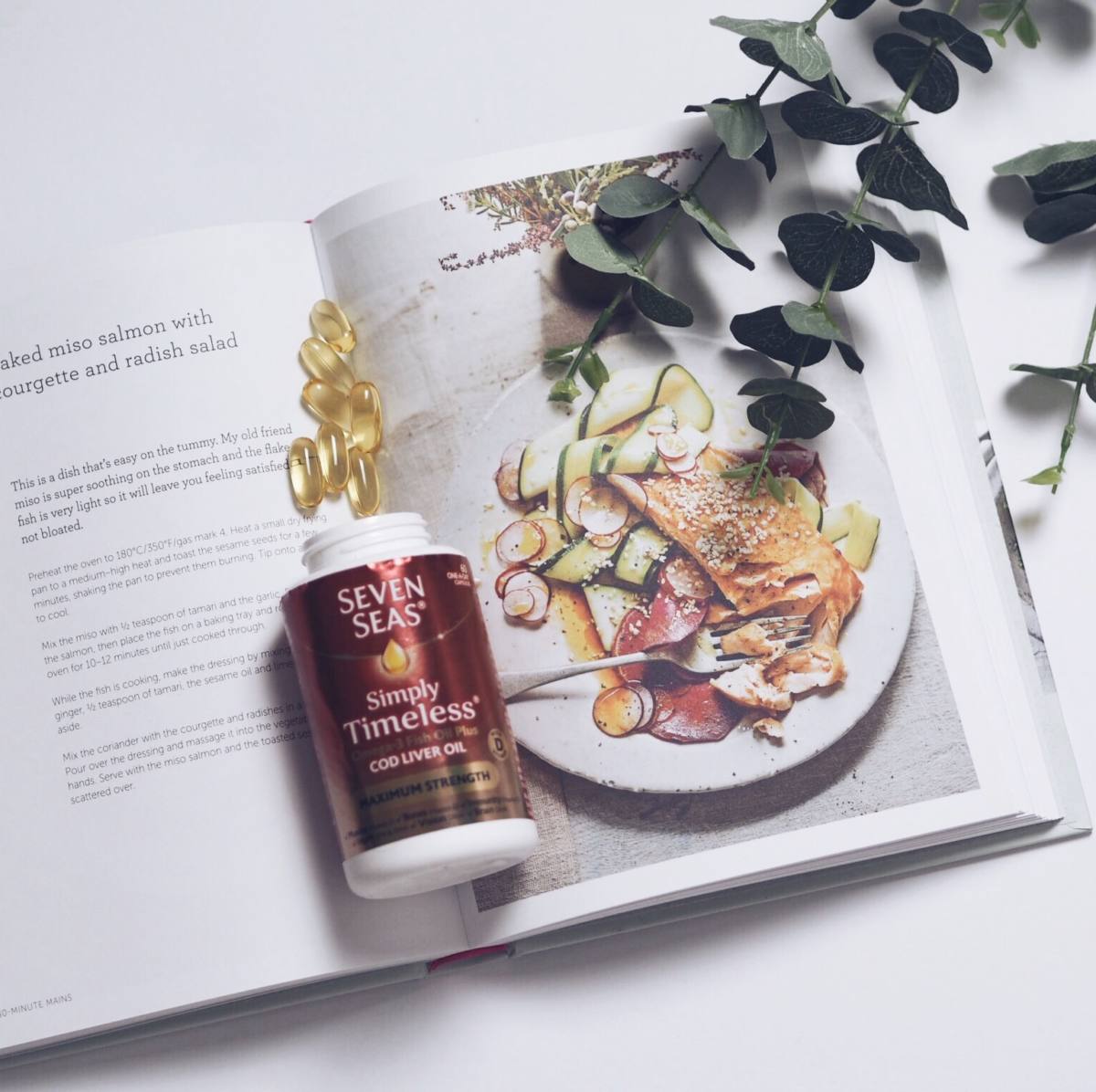 The start of any new season is always a great time to make some healthy changes, and autumn is no different. I love that at this time of year, there's still enough time to make a big difference before Christmas rolls around and I'm definitely motivated by the thought of having made a big head start on all the typical January resolutions! Today I thought I'd let you in on all of the healthy habits I'm trying to form this autumn – hopefully sharing them with you will keep me accountable and also give you a little bit of inspo to make some positive changes too…
1) Continue to take my Omega-3 supplements
Some of you might remember that earlier in the summer I committed to taking a daily Seven Seas supplement in an attempt to boost my worrying low Omega-3 levels. A couple of weeks ago I had my fatty acids measured again using the same blood test as before and I was chuffed to learn that after 3 months of taking the supplement, my Omega-3 level has improved from 3.3 to 4.3 – this now takes me out of the threshold of concern which is brilliant!
Taking a supplement is the easiest way to improve your health as it requires practically no effort at all. Plus, it's a nice feeling to know that you've done something positive for your health before you've even properly woken up – now I'm in the habit of taking them every morning it's just part of my routine. Now I know how important Omega-3 is to our health, I want to continue to take the supplements to achieve greater improvements.
2) Get back into running
I used to love running (so much so I ran not one, but two marathons!) but over the past few years it's a habit that I have well and truly got out of! I always find that autumn is the perfect time to head out for a jog as the temperature is just right, so during the next few months I'm determined to get back into a good running routine. I'll be using the Couch to 5k app to ease me in slowly but surely – watch this space…
3) Eat more fish
While my Omega-3 levels have definitely improved and I'm relieved not to be in the threshold for concern anymore, I know I should be doing more to improve them even further. Professor Calder, a Professor of Nutritional Immunology within Medicine at the University of Southampton who I have been working with on the Seven Seas Omega 3 trial recommended that the best way to do this is by incorporating more fish into my diet alongside the supplements. I'm not a huge fish lover but I'm determined to find some recipes that can help me enjoy eating it – let me know if you have any recommendations.
4) Shift a few pounds
I've always been a big advocate for body confidence and learning to love the skin you're in rather than forever being on some sort of faddy diet, and I'm not about to change my stance on that. However, after an emotionally stressful year that has been accompanied with a lot of comfort eating, I have to admit that I'm not feeling super comfortable with my weight at the moment. For the past few weeks I've been trying to switch out the mid-week ready meals and snacks for fresh home cooked food and plenty of fruit and veg and I want to continue to make this a habit. Hopefully by the time Christmas has rolled around I will be feeling a lot healthier, and if I've dropped a few pounds too then that would be great!
5) Get into a better sleep routine
I'm very lucky that I've never really struggled with sleep before – I've always managed my 8 hours no problem, and probably even squeezed in more like 10 at the weekend! However, in the past few months I've found that my sleep has been really broken and I've been feeling more tired than ever. I reckon it's got a lot to do with too much stress and probably a bit too much screen time before bed, so I'm determined to get into a better sleep routine this autumn. Let me know if you have any tips!
*This post was sponsored by Seven Seas. You can check out Seven Seas on Twitter and Facebook, stock up on your own products, or take their online omega-3 test.