What She Really Wants For Christmas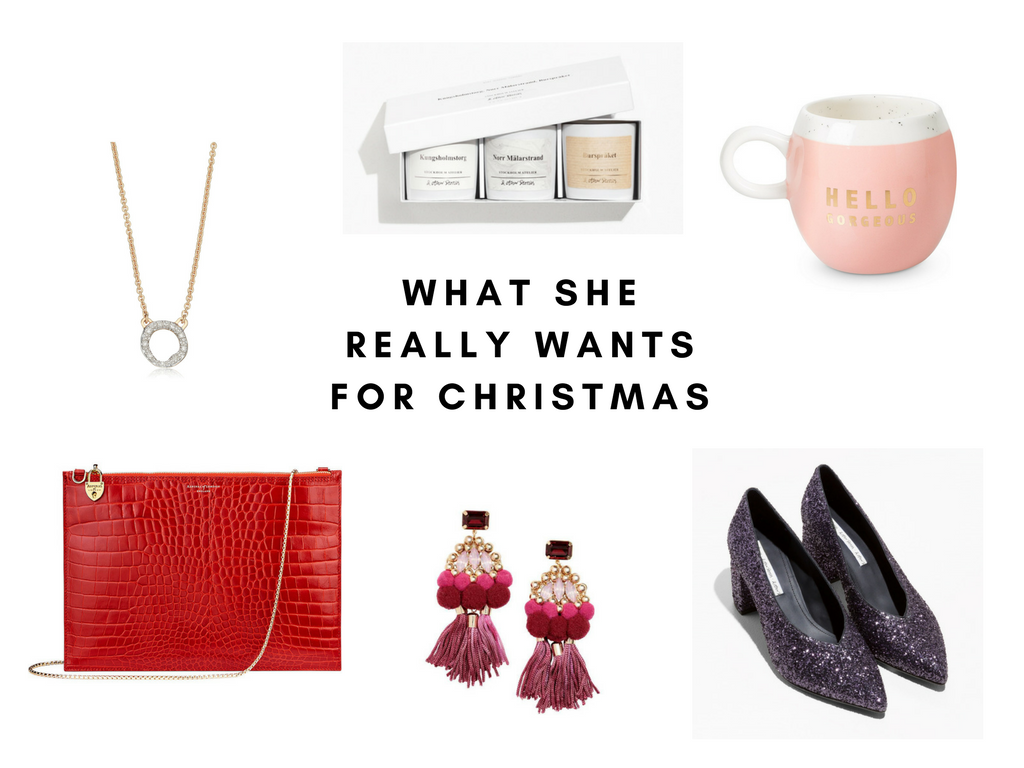 So, I wasn't planning to put any Christmas gift guides together this year. The internet has been awash with them the last couple of weeks and I know lots of people have already finished their Christmas shopping, so it felt kinda pointless. But then my husband told me yesterday that he hasn't bought a single present yet, and I realised that actually there are probably a lot of other useless blokes last minute male shoppers out there who could probably do with a couple of ideas to get them started.
So this post is for them. Husbands, boyfriends, dads, brothers - this is what she really wants for Christmas...
The Main Pressie
1) Roberts Revival Leather Radio / 2) Monica Vinader Circle Necklace / 3) Velveteen Embroidered Dress / 4) Celine Tortoiseshell Sunglasses / 5) Marc Jacobs Watch / 6) Glitter Pumps / 7) Leather Clutch
The Littler Bits
1) The Roasting Tin Cookbook / 2) Leopard Ballet Slippers / 3) Hello Gorgeous Mug / 4) Neom Bath Foam / 5) Scented Candle Kit / 6) Home Book / 7) Orange Blossom Candle / 8) Cashmere Bed Socks / 9) Going Places 2018 Calendar / 10) Salt & Pepper Shakers / 11) Small Pleasures Book
The Stocking Fillers
1) Tasselled Earrings / 2) Moet Christmas Cracker / 3) Glitter Eyeshadow Palette / 4) Fleur De Mimosa Hand Lotion / 5) Penguin Chocolate Tiddly Pot / 6) Stripe Ankle Dinosaur Socks / 7) Stud Earrings / 8) Love Yourself Canvas Tote