Exploring Barcelona's La Ribera District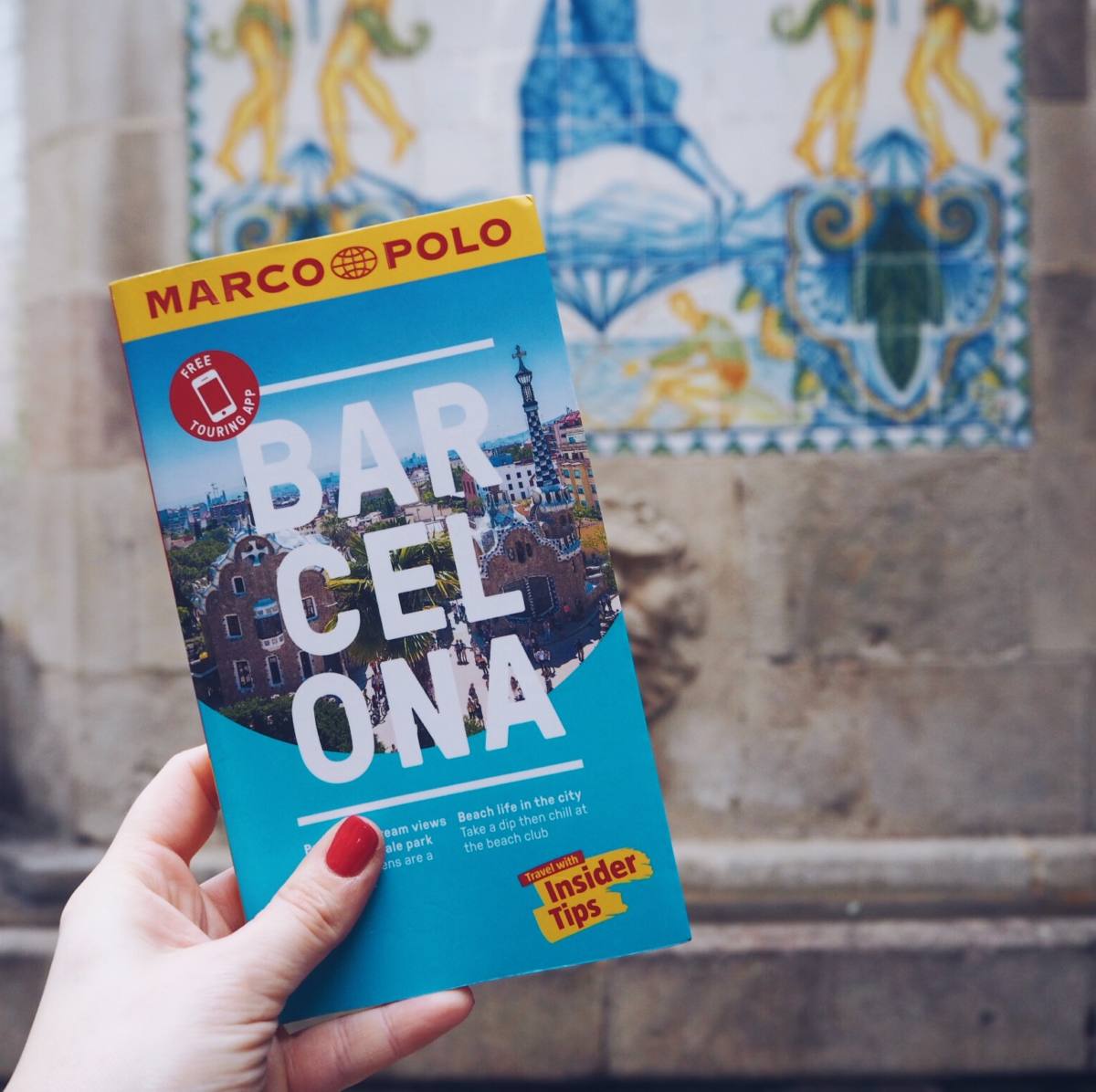 On our recent trip to Barcelona, Sam and I were really keen to discover an area of the city that was new to us. Having visited a couple of times before, we'd already ticked a lot of the main tourist hotspots off the list, so we wanted to take the opportunity to go off the beaten track a little bit and see what else we could find. We flicked through our Marco Polo travel guide to get a few ideas, and when we read about the La Ribera discovery tour, we were totally sold. Not only did it weave through a part of the city we'd never visited before, but it also included some great sights, such as the Picasso museum and Parc de la Ciutadella.
We decided to give it a go on the Saturday afternoon, and armed with our Marco Polo guide and some comfy shoes, we set off on our discovery tour...
Santa Maria del Mar
The first stop on the La Ribera tour was a beautiful church - Santa Maria del Mar. Now Barcelona doesn't have any shortage of beautiful churches and cathedrals, but I found this one absolutely breathtaking. It isn't as colourful as the Sagrada Familia, or as grand as the main cathedral, but it's gorgeous all the same and incredibly peaceful. We spent a little while here, soaking up the calm atmosphere, admiring the architecture and lighting candles in memory of our loved ones who are no longer with us.
Carrer de Montcada
The stroll from Santa Maria del Mar to Carrer de Montcada was absolutely gorgeous. The discovery tour took us down lots of tiny winding roads, decked out with colourful bunting and festoon lighting - I was in heaven! Carrer de Montcada itself was equally beautiful - it's a street full of Gothic palaces, most of which now house galleries and museums. Which leads me nicely onto the next stop...
Picasso Museum
Our next stop was the Picasso Museum - a place I've always meant to visit on my previous trips to Barcelona but never managed to get round to. I love any kind of museum (learning is cool, okay?!) but I found this one particularly fascinating. It was so interesting to see how Picasso's work developed over the years, and to learn more about the places and experiences that shaped those pieces of art that are so recognisable today.
Passeig del Born
Once we'd had our art fill, it was time to move on again - this time to Passeig del Born, which is the coolest street in Barcelona in my opinion! Filled with hip bars, shops and eateries, and plenty of little side streets to get lost down, this is a fab place to visit both day and night. We stopped for a cold beer outside one of the bars before heading up for a nosey at Mercat del Born, a beautiful old cast iron market hall that has now been brought back to life as a cultural centre.
Parc de la Ciutadella
Next up was perhaps my favourite destination on the discovery tour - Parc de la Ciutadella! This was my first time visiting the park, always favouring the more famous Park Guell on previous trips, but I absolutely fell in love with it. There were pretty buildings and paths lined with orange trees and the most beautiful plants - I imagine it's even more stunning in full bloom. You get a pretty good view of the impressive Arc de Triomf from the park too.

Plaça Sant Agustí Vell & Plaça de Sant Pere
The directions for the tour continued down more beautiful streets (seriously, La Ribera is a GORGEOUS part of the city) via two very picturesque squares, Plaça Sant Agustí Vell and Plaça de Sant Pere. The first was incredibly pretty - think of tables sat under trees, old fashioned street lamps and pastel coloured buildings, while the second was the perfect place to while away a couple of hours with a beer. Both were quite tucked away, and I don't think we'd have ever stumbled upon them without the Marco Polo guide book!

Palau de la Música Catalana
The last destination on the La Ribera discovery tour was Palau de la Música Catalana, a beautiful concert hall that boasts an extraordinarily beautiful exterior. I've heard that it's also pretty incredible on the inside too, but we hadn't planned far enough in advance to buy tickets. Still, taking in the intricately designed facades and pretty mosaic columns was enough to leave us in awe.
The whole tour probably took us around 4 hours from start to finish, and we thoroughly enjoyed every minute. La Ribera is a beautiful area of Barcelona, and one I know we'll keep returning to on future visits to the city now that we know our way around!
Sam and I both remarked that it was really good fun to "get lost with a purpose" and that's exactly how following this discovery tour felt - there was no marching from one location to the next, instead we got to take each destination at our own pace and amble around some areas of the city that were totally new to us.
Each of the new Marco Polo pocket guides come with 4-5 perfectly tailored discovery tours that help you get off the beaten track, and I think they may be my new favourite way to discover a different side to a city. We're already trying to decide which one we might follow when we visit New York later in the year!
*This post was sponsored by Marco Polo Guides, but as ever, all views are my own. 
Pin for later: