My Autumn Survival Kit Wishlist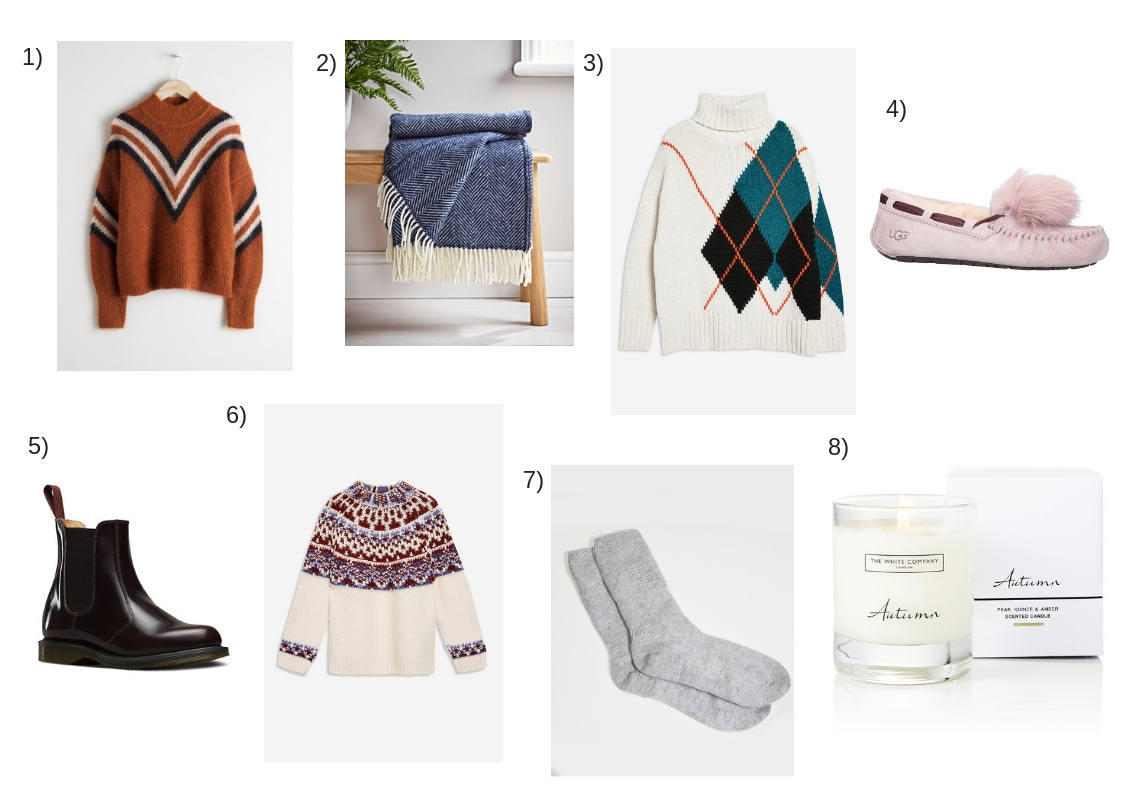 You all know by now that I love autumn, but I know plenty of people who don't share my affection for the changing season. I can see why - suddenly we have less daylight hours to contend with, the temperatures plummet, and for those of us who live up north, there's an awful lot of rain to contend with. I like to think though that with a bit of proper pre-planning, everyone can come to love this season. All you need is an autumn survival kit - a few key items that will help you to not only survive the coming months, but enjoy them too. And today I thought I'd share my own autumn survival kit wishlist with you all - let me know what's on your list!
I tend to live in jumpers and jeans at this time of year, so I'm definitely looking to expand my knitwear wardrobe over the coming months. I absolutely love this one from &OtherStories - I think the colours scream autumn and the wool looks so cosy too.
As you know if you read this post, you'll know I'm a big fan of making our home as hygge as possible! Therefore as soon as autumn arrives, there isn't a sofa or bed in our house that doesn't have a throw draped across it. I think this lovely Cox and Cox one would be perfect for our living room - I'm already dreaming about being snuggled under it while watching telly...
Another jumper for the list - you can't beat a good roll neck, can you? I think this will be such a staple during the autumn winter season, either thrown on with a pair of black skinnies, or styled up with a swishy midi skirt and ankle boots.
I'm cheating a little bit by putting these on my wish list, as my Mum has already bought these for me and put them away for my birthday. Now that I spend half my week working from home I feel like a decent pair of slippers will be such a good investment, and these UGG ones are just so fabulously extra.
Another thing on the list I already own (whoops!) but I've had loads of comments and questions about these boots so I thought I'd include them here. I picked mine up when we were in New York earlier this year and they are just the most gorgeous colour. Dr Martens aren't the cheapest boots around but they last forever, and my black pair were an absolute saviour during all of the snow last winter.
How blummin' cosy does this jumper look?! I'm already picturing wearing it with jeans, boots and a big heavy coat to go and watch the fireworks on Bonfire Night - no you're getting ahead of yourself... Anyway, I know this is a jumper I'd get loads of wear out of and I love that it has a bit of a festive feel?
Everybody always says that if you're going to make an expensive purchase then you should think about it for a little while first. Well, £38 for a pair of socks is pretty bloody expensive, but I have been lusting after these for years now. They look so cosy and perfect for lounging around at home, which I plan to do lots this season.
And obviously, no autumn wish list would be complete without a candle, would it?! I love all of The White Company candles and find that they last ages, but the Autumn scent is definitely my fave! You can only buy them at this time of year so I'm definitely going to treat myself and pick one up when I get paid next week.
What would be in your autumn survival kit?