A Hug In A Bowl - How To Make My Favourite Soup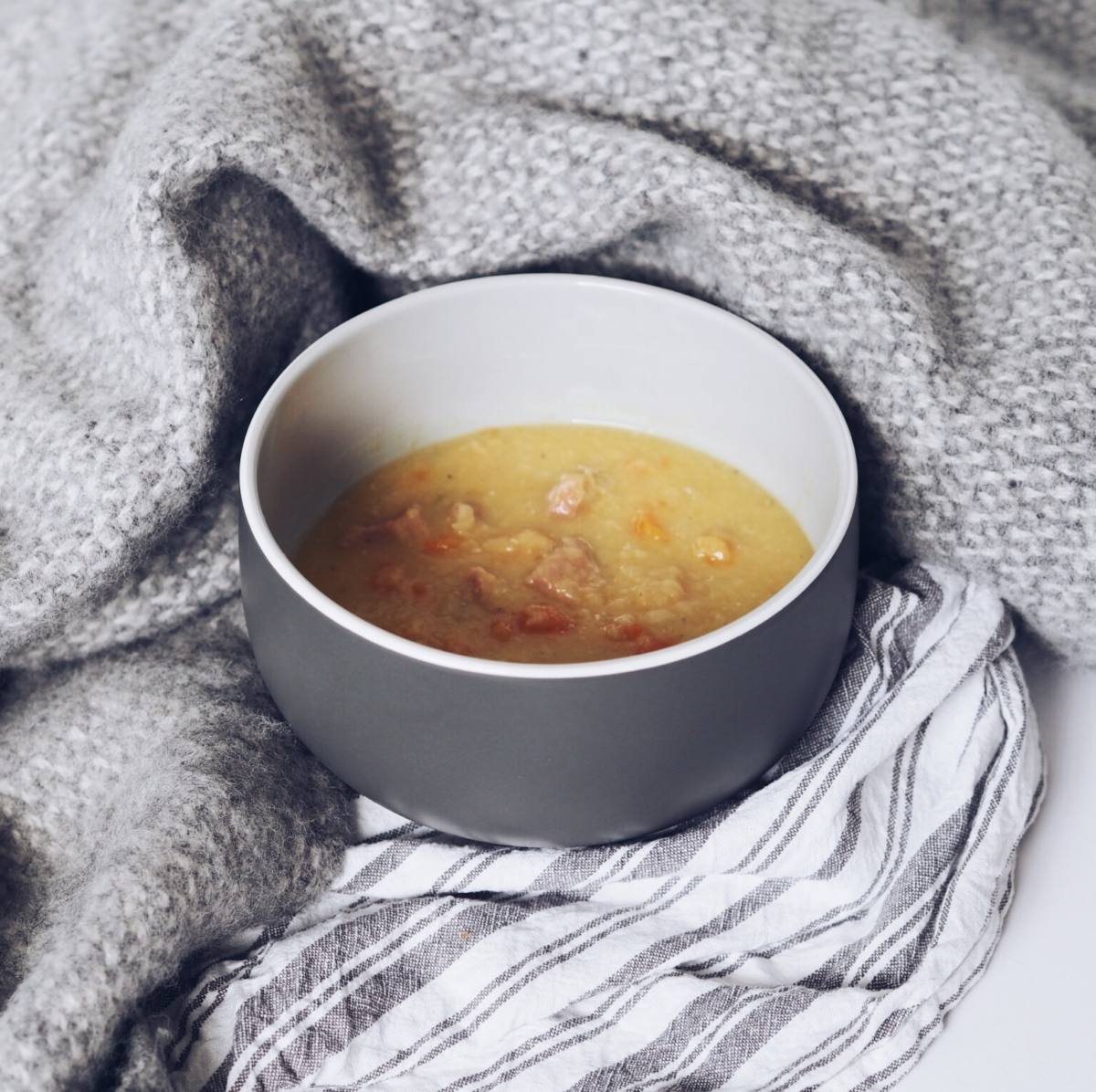 Last week I came down with the lurgy. It was my first cold in what felt like forever, and I was feeling very, very sorry for myself. I don't know about you, but whenever I'm ill I always crave food from my childhood. More than anything, I crave my Mum's ham and lentil soup, which is so comforting that the only way I can describe it is like a hug in a bowl. No matter how gross I'm feeling, as soon as I taste that first mouth full of soup, I am instantly soothed. It's hot and thick and salty and crammed full of vegetables - the perfect antidote for a snotty nose or a sore throat. Just don't forget to pick up a loaf of crusty bread, ready to be smothered with Lurpack and dunked.
As I was stood making this soup last week, I thought it would be nice to share the recipe with you all. This is my Mum's ham and lentil soup recipe that she's been using for years and years, and it's so simple that you can make it even with the flu. It makes around 7 or 8 portions, so what I tend to do is cool any leftovers in some Tupperware and then pop it in the freezer so I have healthy comfort food on demand whenever I need it.
Enjoy!
Ham & Lentil Soup Recipe
Ingredients
750g unsmoked gammon joint
500g dried red lentils
5 carrots, peeled and diced
2 onions, peeled and diced
5 stalks of celery, diced
Method
Remove lentils from packet and leave to soak in a bowl of water.
Remove packaging from gammon joint and place in a pan, before filling the pan with enough water to cover the joint. Bring to the boil and then leave to simmer for an hour, or until cooked all the way through.
Once cooked, remove the piece of ham from the water (leaving the water in the pan), and chop into bite size pieces.
Take the pan of water that you cooked the ham in and pour half  way, before filling to the same level with fresh water.
Drain your lentils, and then add them to the pan of water along with the chopped ham, onions, carrots and celery.
Bring to the boil and then leave to simmer for around 40 minutes, or until the lentils are fully cooked through. They should start to go thick and mushy when done. Make sure to keep staring the soup every 10 minutes or so to prevent the lentils from sticking to the bottom of the pan.
Serve in a big bowl, accompanied by crusty bread and butter.