10 favourites this week (#177)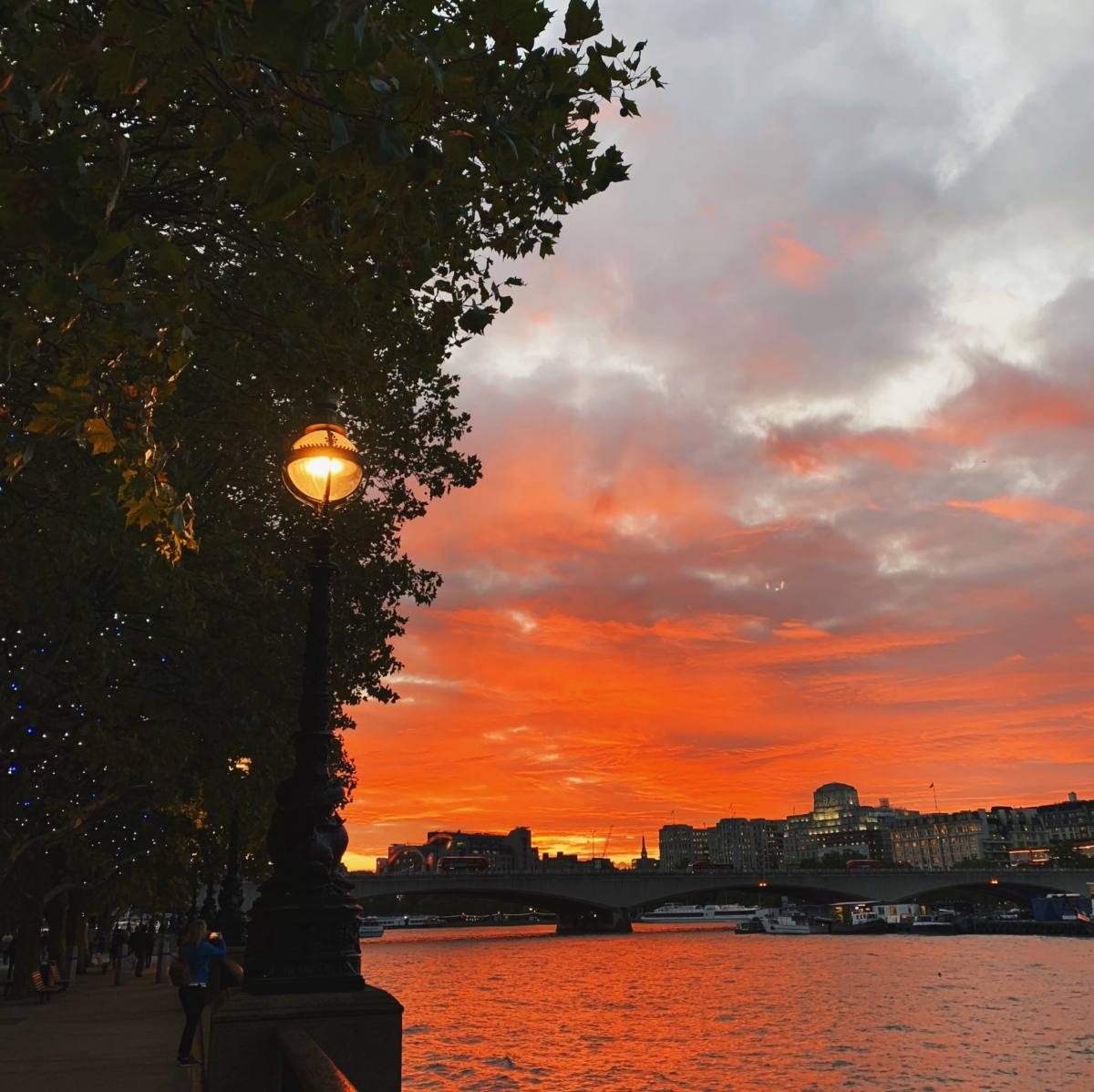 Happy Monday, you lovely lot! How is it the start of another fresh week again already?! I feel like time is just flying by at the moment, and I'd quite like to slow it down so that I can fully embrace this gorgeous season. Last week was a slow and easy one, which was very much welcomed after a hectic couple of months. I was struck down with a bit of a virus and swollen glands, but it was nothing that couldn't be fixed by a little bit of time at home and lots of TLC from my Mum - you're never too old to be looked after by your parents, right?
Anyway, despite feeling a bit rotten, there were lots of lovely moments during the past 7 days. Here are my 10 favourites this week...
1) An epic sunset
I was in London last Monday evening for work and headed out for a little walk along the South Bank. I was treated to the most epic sunset, with the sky turning all different shades of orange and pink. Plus, once the sun had disappeared I got to watch the city light up right before my eyes - gorgeous!
2) A little Foyles haul
I was feeling a little anxious at the start of last week (I have no idea why), and so I did what I always do when I'm feeling anxious - head to a bookshop. I visited Foyles on the South Bank which is one of my faves, and spent a little while selecting some new books. By the time I left and headed back to my hotel I was feeling ten times better.
3) Soup
There's no denying that soup season is well and truly here, and whenever I'm ill there's nothing I crave more. I spent some time last week making a couple of different soups to fill the freezer and I'm feeling pretty smug that I've got some healthy and comforting lunches sorted for the next few weeks.
4) Hen do planning
One of my oldest and bestest friends Emily is getting married next year and we've been having loads of fun planning her hen do. We kicked things off with a bridesmaids Skype call last week and it's safe to say that we've got lots of plans up our sleeves!
5) New UGG slippers
It's still quite a while until my birthday, but my Mum gave me my pressie early this weekend as I've been complaining about cold feet! She very generously treated me to a gorgeous pair of UGG slippers and they're my new pride and joy - I can't begin to tell you just how cosy they are.
6) Family time
As I mentioned earlier I headed back to my parents' house for a couple of days last week and it was just what I needed. It was so nice to have some long overdue family time, and there's something about sleeping in your old bed and chain drinking tea that makes everything seem right with the world.
7) Yoga
If you read this post then you'll know that I've pledged to get some exercise every day this month. I've been spending lots of time out in the fresh air either jogging or walking, but I've also thoroughly enjoyed doing some yoga again. It's my favourite exercise to make both body and mind feel good.
8) Seeing the Giants
I headed into Liverpool on Saturday morning with my Mum and Dad with one clear aim - to see the Giants! If you didn't see it on the news, the Giant Spectacular has been taking place in the city this weekend, which is the largest street theatre performance happening in the UK this year. It was totally amazing and unlike anything I've ever seen before.
9) Starting my Christmas shopping
I know that for some people it's much to early to start mentioning the C word, but as a Christmas obsessive, I got pretty excited about starting my present shopping last week! I've still got lots of gifts to buy over the coming months, but it feels good to know I've made a start.
10) Sunday lunch with my friends
Is there anything better than a roast dinner on a crisp autumn day? I think not! I headed to a gorgeous local pub yesterday with some of my friends for Sunday lunch and it was so nice to catch up with them all - especially as I got to meet my friends baby for the first time.
What made you smile last week?