Gifts That Do Good: A Guide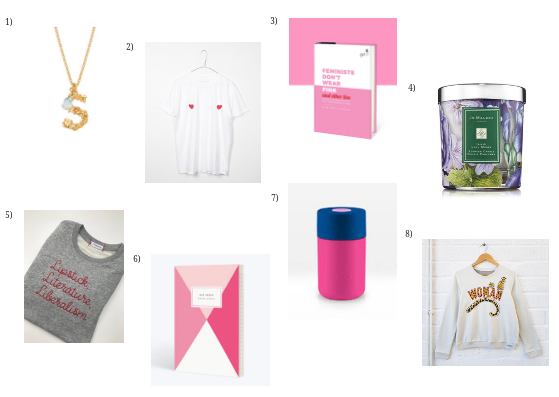 If you read this post, you'll know that I'm really trying to be more conscious and considered about where and how I'm spending my money at the moment. I've been making a real effort to change my habits around fast fashion and spending with huge corporations, and because of that, I felt pretty adamant that I didn't want to create a Christmas gift guide filled with the usual high street bits and bobs. Instead, I decided to create a guide full of gifts that do good. Because, let's face it, we all still want to buy nice presents for our loved ones this Christmas, so why not make sure we're supporting some brilliant causes or making a small difference at the same time? Tis the season of goodwill and giving after all.
All of the gifts on this list give back in some way - whether that's with a charity donation, or by simply helping to reduce waste. I think you'll agree that they're all bloody gorgeous pressies too - I know I'd love to unwrap anything on this list!
Gifts That Do Good: A Guide 
First up are these beautiful alphabet necklaces from Alex Monroe. Not only are they seriously gorgeous, but £30 from the sale of each necklace will be donated to Great Ormond Street Hospital, who help poorly children get the treatment and care they vitally need.
Unless you've been living under a rock, you've probably seen someone sporting one of these brilliant tit-tees, and rightly so - they're ace! GIRLvsCANCER was created by blogger and social media queen, Lauren Mahon, after facing her own breast cancer diagnosis, and for every sale of her tees and sweaters, 25% will be donated to 4 charities that helped her while she was going through treatment.
A book that's pink and filled with essays written by brilliant feminist women? SOLD. I can't think of a single friend who wouldn't love to receive this as a gift, and even better, all royalties from the book go to Girl Up, an initiative hosted by the United Nations Foundation.
Who doesn't love a Jo Malone candle? They're the best of the best, and this year, they have a range of 3 candles that not only look and smell great, but also support vital mental health charities. 75% from the sale of each candle will be donated to help individuals and families affected by mental health, through the work of the charities listed here.
I am absolutely obsessed with the beautiful Lisa Macario jumpers, and this one supports Sarcoma UK with a £10 donation for every sale. As a girl fond of lipstick, literature and liberalism myself, I can think of no better way to support a great cause and look great in the process.
I know I'm not the only stationery addict around here, so I knew you'd all love this gorgeous pink diamond notebook from Papier. Their notebooks are some of the most gorgeous out there, and this one can be customised with the recipients name and a little message. Plus, 100% of the profits will be donated to Breast Cancer Haven.
We all know by now that we should be getting our takeout coffees in reusable cups these days, and it sure makes it easier to remember to do exactly that when you have a gorgeous one! These Frank Green reusable cups can be customised in a whole range of colours - good for the environment, and damn pretty too.
I'm a HUGE Charlotte Olympia fan, so when I saw this sweatshirt on The Fmly Store website, I knew I had to include it on this list. Not only is it just fabulous, 50% of the retail price is donated to Women for Women International, who support women living in some of the most dangerous places in the world.
Has anything on the list caught your eye? Do you have any other great ideas on where to shop for gifts that do good? Be sure to leave a comment if so so that we can all be a little more conscious with our gift giving this year.