36 Hours In Brussels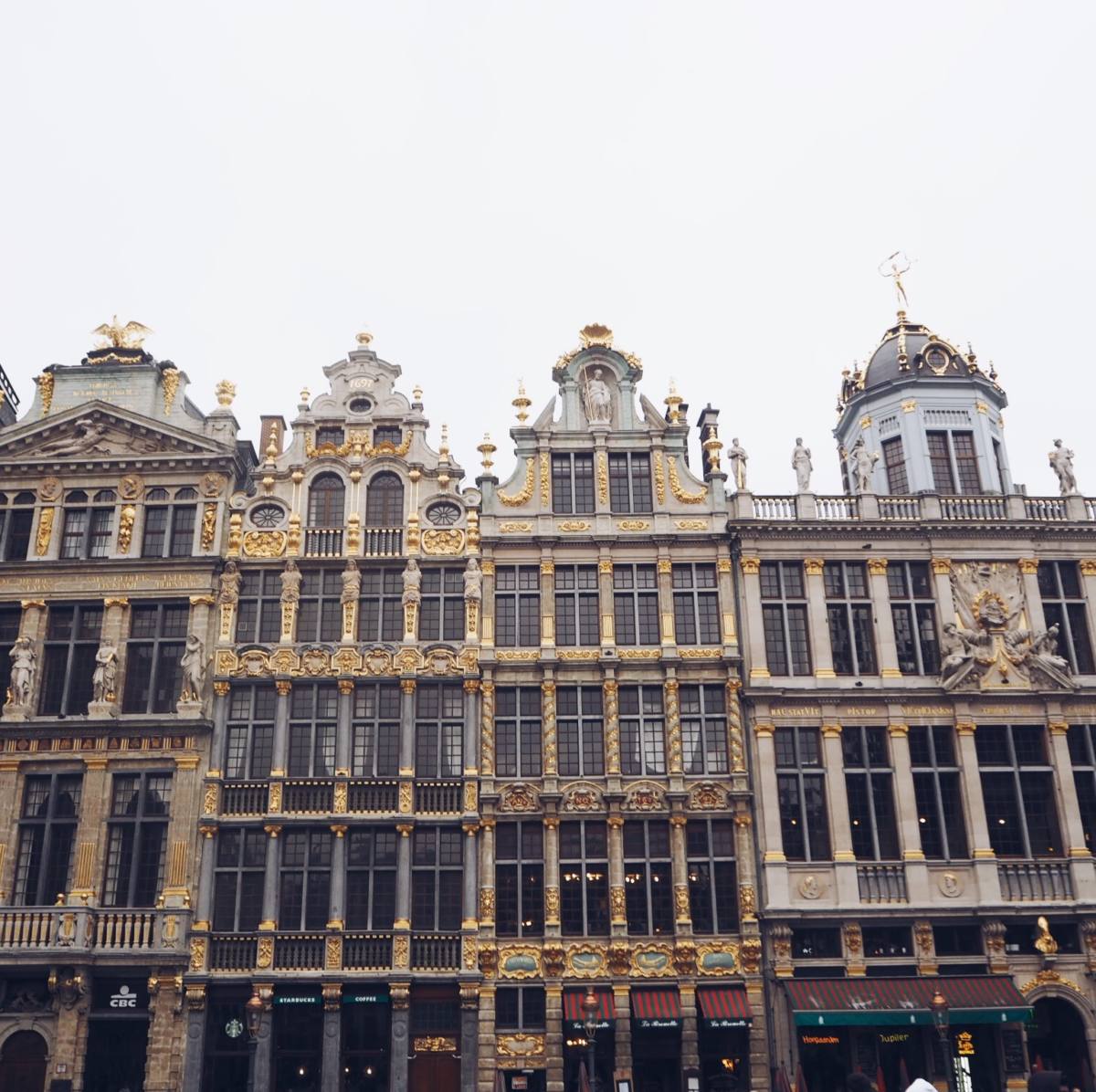 So, if you follow me on Instagram (which you totally should), you'll have seen that I spent last weekend in Brussels. We flew into the city on Saturday morning and out again on Sunday evening, which meant we had just shy of 36 hours to explore, and today I thought I'd show you what we got up to!
I really wasn't sure what to expect from Brussels - I'd heard that it was quite a drab and bureaucratic city, but that wasn't our experience at all. To me, it felt like a mix of both Amsterdam and Paris, with lots of delicious Belgian beer and waffles thrown in - what's not to love?! It was pretty cold while we were there (I'm talking -2 with a bitter wind!), so we didn't get to spend as much time wandering around outside as we usually would on a city break, but we crammed plenty in all the same.
The first thing we did once we arrived was head to the hotel to check in and drop our bags off. We stayed at Motel One which I would thoroughly recommend - the rooms were lovely, the location was really central and it was very reasonably priced too. Once we'd all had a quick freshen up, we headed out in search of some food, and of course, we had to start with frites! Frites are a Belgian speciality, so we all indulged in a cone with plenty of mayonnaise - perfect city break fuel if you ask me.
With happy tummies, we started exploring the city. The one location that everyone had told me we needed to visit in Brussels was Grand-Place, and as soon as we rocked up I realised why. I've seen a lot of beautiful city centre squares and plazas on my travels, but Grand-Place was by far the most breath-taking. The buildings surrounding the square are absolutely exquisite - the gold gilt just makes them look even more fancy! The square was always absolutely bustling - I'd love to visit again in the summer and sit outside with a beer, watching the world go by.
From Grand-Place, we took a stroll through Galeries Royales Saint-Hubert, before we made our way to perhaps one of the most underwhelming tourist attractions I've ever seen - Mannekin Pis. Mannekin Pis directly translates to Little Man Pee, which tells you everything you need to know about this statue of a little boy having a pee. It was amusing all the same though, and he was dressed up in St Patrick's Day regalia when we visited, which seemed to be causing a lot of excitement!
We spent the rest of the afternoon winding our way through some great bars, sampling plenty of Belgian beers. Some of our faves were Delirium (absolutely humongous with such a fab atmosphere - a must visit!) and Poechenellekelder (which had a very epic beer menu!). We of course had to sample a Belgian waffle en route too…
By the time our tummies started rumbling for dinner, we were all in the mood for steak frites, and a little bit of research led us to Skievelat. The food was absolutely delicious here, and the sauce that came with the steak was so good that I would have drank it if that was socially acceptable! After dinner we made our way back to the hotel, where we enjoyed a bottle of Prosecco at the bar before retiring to bed.
There were a few fuzzy heads when we woke up the next day (be warned, those Belgian beers are STRONG!), and so there was only one thing on our mind - brunch! But first, we wanted to visit the beautiful Cathedral of St. Michael and St. Gudula. I don't know about you, but I absolutely love visiting cathedrals and churches - there's something about standing in those huge spiritual places and imagining all of the special moments that have happened there that makes my hairs stand on end. The cathedral is incredibly beautiful, with some of the biggest stained glass windows I've ever seen.
Once we'd had our cathedral fix, our brunch craving was even stronger, so we headed to Peck 47. It had quite a bit of a queue outside, so we knew it was going to be good! After a 20 minute wait we were sat down in the warmth and struggling to decide what to order from the epic breakfast menu - everything was SO delicious, but the boys ordered the Peck Special and wouldn't stop raving about it.
We then headed out to explore more of the city. Top of our agenda was to walk up to the Palais de Justice - unfortunately at the moment it's covered in scaffolding, but you get a pretty gorgeous view over Brussels from up there. The Palais de Justice is also the gateway to the European Quarter - sadly we didn't have enough time to explore on this trip, but hopefully I'll get chance to return one day.
We spent the rest of the afternoon wandering down pretty streets, spotting the Tintin comic book murals that are dotted around the city and stopping to look in the window of just about every chocolate shop (some of those creations are SERIOUSLY amazing!). We headed for one last cone of frites at Friterie Tabora (these were the best ones we had), and one last beer at Cafe Opera, before heading back to the hotel to collect our bags.
Our time in Brussels was short but very sweet (and not just because of the waffles!). The city really got under my skin, and I'd love to come back one day to explore more when the weather is a little warmer. Maybe with a cheeky little trip to Bruges added on too!
Have you ever visited Brussels? Would you like to?
Pin for later: