A Weekend In Edinburgh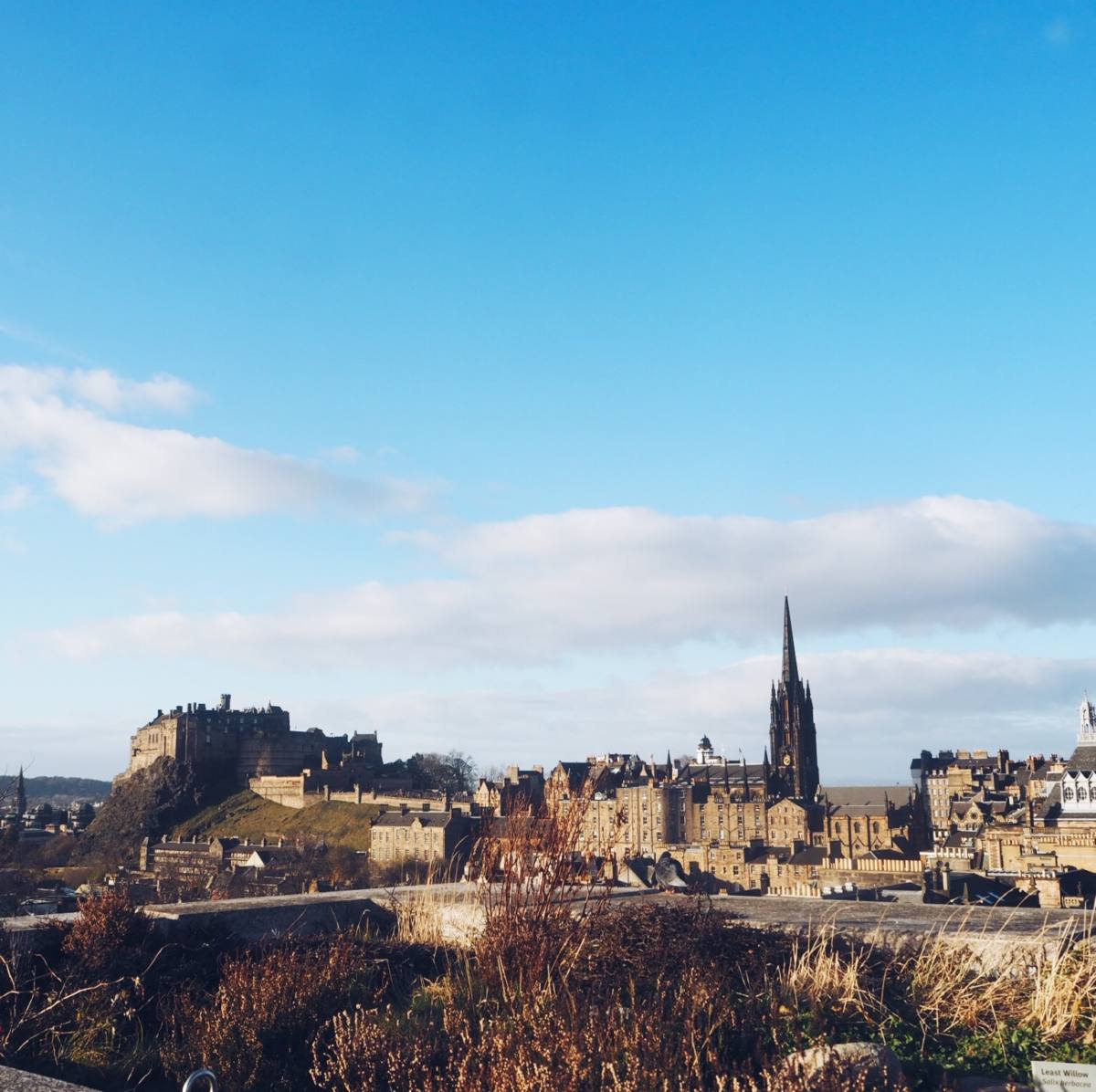 A couple of weeks ago Sam and I spent the weekend in Edinburgh. We had an amazing time, full of exploring and yummy food and blue skies, and I remembered why I fell in love with this city so much when I first visited 8 years ago. All of my previous trips to Edinburgh were to visit my best friend, Fiona, who went to university there. As well as being a student in the city, Fiona also worked as a tour guide, leading ghost tours and immersive events across the city. As a result, she knew the place like the back of her hand and my trips were always jam-packed with interesting facts and locals tips.
This time around we didn't have Fiona to rely on to show us around, but we did have the next best thing - a Marco Polo travel guide. Armed with that and our warmest attire (hat, scarf AND gloves all required for the Scottish winter) we set off to explore Edinburgh.
We had a long old journey up north, so once we'd parked up and checked in (I'll be telling you all about where we stayed next week) we were more than ready for a drink and a little wander. Our apartment was in the New Town, so we flicked straight to that section of our guide and realised that we were only a short stroll away from The Dome, a bar and restaurant set in the most beautiful building.
A quick Instagram stalk showed me that not only was The Dome beautiful, but it also looked like the most festive place in the world, so I was obviously sold. We navigated our way there using the handy map included in the Marco Polo guide, and toasted the start of our weekend with a glass of Prosecco. We dedicated the rest of the evening to seeking out more Christmas lights (there's loads along George Street and Princes Street) and stuffed our faces at the newly opened BABA (so much yum food!) before strolling back to our apartment for an early night in the hope that we would wake up refreshed and ready to explore.
We started our second day with brunch at MILK (I had a breakfast burrito and it was all kinds of delicious) while poring over our guide book and coming up with a bit of a plan of attack for the day. We knew we wanted to tick off as many sights as possible and as Edinburgh had treated us to glorious sunshine, we were happy to do everything on foot.
We decided to start with the Old Town as our guide showed us that a lot of Edinburgh's key sights are located there. We started with the castle, which is just as magnificent as I remembered from my last visit. The views from up there are incredible, and we both marvelled at how something so impressive could have been build way back in the 7th century. We also saw a couple get engaged right in front of the castle which was super lovely too.
From there, we headed off to Greyfriar's Kirkyard while I recounted the story of Greyfriar's Bobby to Sam. We gave the statue of the dog a little pat on the nose for good luck, and from there we wandered along to the National Museum of Scotland where we spent a few hours exploring their exhibitions.
All of the national museums are free which is super cool, but this one is home to Dolly the sheep which put it at the top of our hit list! Plus the building is absolutely gorgeous with plenty of natural light and a beautiful ceiling. One of the insider tips in the Marco Polo guide was to head to the roof terrace for a view of the Old Town and castle and we were not disappointed - it was chilly up there but you could see for miles.
Taking in all of the exhibitions at the museum had left us thirsty, so we headed to Sandy Bell's which is a traditional pub that is chosen as one of the Marco Polo highlights. It was the perfect place to rest our feet with a pint and we made a plan for the afternoon while listening to the folk musicians playing in the corner of the pub.
Next up was a stroll along Grassmarket, which is another great place to get a view of the castle, before heading back up to Princes Street to enjoy the Christmas markets. I have to say that the Edinburgh Christmas markets are the best ones I've been to hear in the UK - there were so many different stalls and attractions, plus I had a very dreamy Bailey's hot chocolate which was perfect for warming us up a little bit.
We spent the evening a little closer to our apartment eating all of the yummy Indian food at Dishoom - we did have to queue for quite a while here, but the food was absolutely worth it. Sam and I left wishing there was a restaurant closer to Leeds and vowing to visit for brunch whenever we're next in the city.
We woke up early the next day so that we could squeeze in as much of Edinburgh as possible before tackling the long journey home. We had a quick brunch at The Ivy (I can highly recommend the pancakes!) before heading back to the Old Town to walk the Royal Mile.
A quick glance at our map showed us that we weren't too far from Calton Hill, which we'd read boasted some of the best views in the city, and so we walked off our brunch with a quick hike to the top. It only takes around 15 minutes, so much more manageable than Arthur's Seat, but the views are equally impressive. Not only do you get a bird's eye view of the city sprawling out in front of you, but you can also see the port and the Firth of Forth. Our guidebook recommends this as a great place to take in the sunset too, so that's definitely something we'll be putting on our list next time.
After another quick mosey along Princes Street, it was time to say our goodbyes to the city and head home. We both thoroughly enjoyed our weekend in Edinburgh, and despite being there for less than 48 hours, we felt like we managed to squeeze a lot in. A big part of the beauty of this city is just wandering around and soaking in all of the history, and having our Marco Polo guide with us made sure we didn't miss any interesting facts or beautiful spots.
Sam and I both left vowing to return again soon as there's still so much we want to see (Stockbridge, Dean Village, Leith), but this visit definitely did the trick of reminding me just how much I love this city. It has the perfect balance of history, character, warmth (the people, not the weather) and capital city amenities that make it a great place to visit, and I only wish we'd have had more time there!
*This is a sponsored post, but all opinions and love for this magnificent city are my own.